Ajay Kumar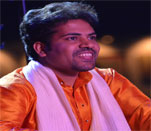 Assistant Professor
---
27667608 9868572408
ajay_tabla@hotmail.com
---
Educational Qualifications
Ph.D./2007,Delhi University,Faculty of Music & Fine Arts, D.U.
M.A/1973,Faculty of Music , Indraprastha College
M. Mus./2002,Faculty of Performing Arts, B.H.U
Career Profile
2008-12 /Tabla Instructor in Faculty of Music & Fine Arts

Tabla short term and Advance course
Areas Of Specialization / Interest
Practical aspect of Percussion Music aesthetically composition presentation, sound culture and techniques for various types of percussion instrument.
Subjects Taught
Percussion Music: Tabla/ Pakhawaj in B.A.(H),Short term, Advance course
Conference Participation/Presentations
National Tabla/Music workshop 2004-2013
International Performances "Thai percussion Instrument and Tabla in International Seminar Organized by Music and Fine Arts Department, Srinkharinwirot University, Sukhumbit, Bangkok from 4th to 5th February 2008.
Tabla workshop and Lecture Demonstration & Performance , Thailand 2004-08. 2013
Got 1st Prize in East Zone Inter University Youth Festival in 1997.
Got 1st Prize in Suturnaliya Inter University Youth Festival at I.S.M. Dhanbad in 1998.
In 1998 performed Tabla Solo in National Youth Festival at Punjab University Chandighar.
Won many prizes in musical competitions in many part of the Country.
Performed Tabla recital for making a Documentary Film on Indian classical music 'Raga' Conducted by the German Delegacy in the year 2000.
Performed in Solo and accompaniments at many prestigious Festival Rajgir,Baudh and Kosi MahotsavaBihar,MondaiFestival,Orisa,Varanasi,Delhi,Katni, Sagar and orther Cities.
Ajay regularly appears to T.V and Radio Programs.
Performed Tabla solo recital in Hariballabha Sangeet Mahasabha Jalandhar and vasantotsav music concert, Varanasi.
Awarded junior research fellowship in 2008 by Culture department Government of India.
Represented Indian Drums group in Bangkok from 7th to 10th April 2013 at International Drum Festival, Thailand.
Publications Profile
The Gharanas of Tabla, Vageeswari, Vol.XXII, 2009, Pg. 72-77, ISSN No. 0975-7872
Percussion Instruments of North India, Vageeswari, Vol.XXIII, 2010-11, Pg. 124-127, ISSN No. 0975-7872
Etmology of Tabla, Vageeswari, Vol.XXIV, 2011-12, Pg. 124-127, ISSN No. 0975-7872
Pandit Anokhe lal Mishra : A Resplendent Planet in the Cosmos of Hindustani Classical Music,Vageeswari, Vol.XXIV, 2012-13, Pg. 112-120, ISSN No. 0975-7872
BOOKS/MONOGRAPHS (AUTHORED/EDITED)
Dr. Kumar, Ajay. 2010. Pakhawaj ki Utpatti, Vikash evamVaadan Shaile. New Delhi: Kanishka publishers & Distributors.
Dr. Kumar, Ajay. 2011. Banaras Gharane ke Prawartka Pandti Ram Shaye Ji ki Tabla Vadan Parmpra, New Delhi: Kanishka publishers & Distributors.
Awards And Distinctions
Bharat Sanskriti Yuva Ratna Samman

Pandit Onkarnath Thakur Award

Teacher Award

Sangeet Kala Ratna Samman

Yuva Purshkar
Research Projects (Major Grants/Research Collaboration)
Junior Reseacrh Fellowship by Culture Department, Government of India, Delhi.