Vinay Kumar Mishra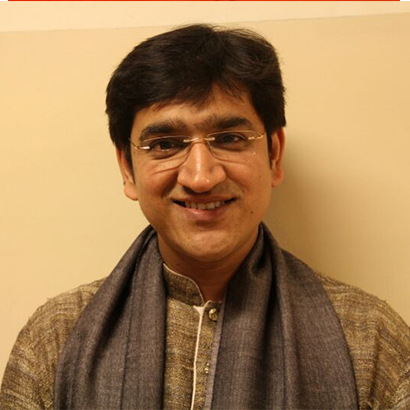 Guest Lecturer
---
9868409134
vinayharmonium@gmail.com
---
Educational Qualifications
Ph.D., Faculty of Music & Fine Arts, Delhi University, 2014.(Bhartiya Sangeet ke aadhar tatvon ki aadhunik yug mein praasangikta: Significance and relevance of the basic values of indian classical music in modern era)
NET with SRF/JRF, UGC, 2009
M.Phil, Vocals, Delhi University, 2008.
M.A.(Music), Vocals, Delhi University, 2006.
B.A.(Music), Banaras Hindu University, 2004.
PROFESSIONAL TRAINING (HARMONIUM)
More than 15 years of rigorous training in Harmonium under the tutelage of UstadMehtab Khan in Varanasi and most veneratedPt. Appa Saheb Jalgaonkar.
Career Profile
Harmonium instructor with a total teaching experience of 7 years as an Assistant Professor in Faculty of Music & Fine Arts, Delhi University
Dept. of Music, University of Delhi, Delhi - From 2015 till date - 7 Years
Areas Of Specialization / Interest
Instrumental Music (Harmonium): Playing Techniques and Accompaniment with Different Vocal Styles
Vocal Music
Subjects Taught
2 years diploma course in Harmonium
6 months advanced course in Harmonium
4 months certificate course in Harmonium
PUBLICATIONS PROFILE
PUBLISHED BOOK
Harmonium VividhAayam - New Delhi – Akanksha Publication and Distributors. 2016
PAPERS PUBLISHED
Khayal gayanaur harmoniumsangati - Vageeshwari vol. xxvi ISSN No.0975-7872
Samkaaleensaangeetikparidrishyamein harmonium kibadhtiBhoomika - Anhad Lok – ISSN 2349-137X
CONFERENCE PARTICIPATION/PRESENTATIONS
National Seminar, University of Delhi 2005-2012
International Seminar, University of Delhi 2013
Paper Presentation in International Seminar, University of Delhi-2015
Awards And Distinctions
Sangeet Sadhak Samman, NavoditKalakaar Samiti, New Delhi
Kala Sadhak Samman, MatraUdbodhan Ashram, Patna
NaadSadhak Samman, Naad Aura, New Delhi
A grade in Harmonium, All India Radio
Featured in Outlook and Tehelkamagzine
1st Prize, Harmonium solo, East one Music festival 2001-02 organized by A.I.U.
Member of Selection Committee of Scholarship, Ministry of Culture
MAJOR PERFORMANCES
ABROAD
Darbar Festival, UK 2018
Festival de I'Imaginaire, France 2018
International Drum Festival, Thailand 2013
Indian National Theatre & SIPA, Lahore, Pakistan, 2013
Musical Tour, USA, CANADA, 2010, 2012
Uropalia. India Festival, Europe, USA, Israel, Malaysia, Hong Kong, Thailand, 2012
Bhakti Sangeet Utsav, Nepal 2010
Rikskonsertene , Norway 2009, 2010
ICCR Tour, U.S.A. Canada, 2009
Shivratri Sangeet Mahotsava , Mauritius 2009
IN INDIA
Saptak Festival Hydrabad.
Vishunu Digambar Jayanti Delhi.
Harivallabh Sangeet Sammelan Jalandhar.
SankatMochan Sangeet Samaroh Varanasi.
Shankar Lal Music Festival Delhi.
Delhi Classical Music Festival, Delhi
Chatur Lal Music Festival, Delhi.
Spic Macay, India and Abroad.
Akashvani Sangeet Sammelan.
Tansen Music Festival, Gwalior.
Bihar Utsav Patna.
Takshshila Utsav, Patna
BaudhhaMahotsava, Rajgir
Kala Prakash, Varanasi.
ARTISTS ACCOMPANIED
Pt. Jasraj, Pt. RajanSajan Mishra, Pt. Ajay Pohankar, Ustad Rashid Khan, Goswami Gokulotsava Maharaj, Pt. Ulhas Kashalkar, Pt. Baldev Raj Verma, Pt. Madhup Mudgal,Pt. Chhanu Lal Mishra, Pt. Venkatesh Kumar, Pt. Harish Tiwari, Pt. Sanjeev Abhyankar, Pt. Devashish Dey, Shri RagunandanPanshikar,VidushiGirja Devi, Begum Parveen Sultana, VidushiShanno Khurana, Dr. Prabha Atre, Smt. Shanti Sharma, Smt. Vasundhara Komkali, Vidushi. Ashwini Bhide Deshpande, Smt. Kalpana Jhokarkar, VidushiAratiAnklikar, VidushiKalapiniKomkali, Smt. Subhra Guha, Vidushi Purnima Chaudhari.