Prof.Suneera Kasliwal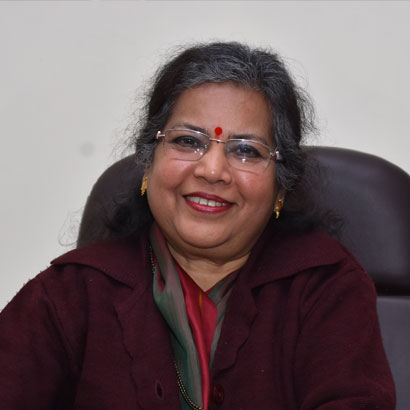 Professor
---
27667608
suneerakasliwal@yahoo.com
---
Educational Qualifications
PH.D-1982 , Music Instrumental, Banaras Hindu University Varanasi ,Thesis topic: Study of Ragas & Composition
M.Mus- 1979 (BHU)
Career Profile
10 Yrs. / Lecturer in Delhi University

Teaching

8 Yrs. / Reader in Deptt. Of Music

Teaching

2004 on wards / Professor in Deptt. Of Music

Teaching
Areas Of Specialization / Interest
Musical Instruments and Instrumental Music: Classical Music as well as Folk Music, (Rajasthani Musical Instruments in particular).
Subjects Taught
B.A. Hons., M.A. and M. Phil.
Practical as well as theory papers i.e. M.A. Prev. Course III and M.Phil: History of Music.
Publications Profile
Book titled "Classical Musical Instruments" published by Rupa & Co., New Delhi, 2001 which has been highly acclaimed by the musicians and music lovers. The book was reviewed by almost all the daily and weekly papers and also by more than five prestigious music journals and appreciated throughout India. The 4th Edition of the book as e-book has come in the market in July 2016.
Book titled "Sur Tar" published in Hindi by Kanishka Publishers, Delhi, 2002. It is a compilation of various articles, interviews and some of the books, cassettes and programmes reviews, published in different journals, newspapers from time to time by the author 2nd edition of this has also come in 2015.
A book titled "Ravanhattha: Epic Journey of an Instrument in Rajasthan" has been published by Shubhi Publications, Gurgaon, in July 2009. This book describes Ravanhattha as a representative instrument of Rajasthan along with its historical background and present status.
Conference Participation/Presentations
Paper presentations and Lecture Demonstration in various Seminars organized by various Universities and other bodies like Sangeet Natak Akademi, New Delhi, India International Centre (IIC), S.R.A. Kolkata, Faculty of Music and Fine Arts, Department of Music,Delhi.
Research Projects (Major Grants/Research Collaboration)
Completed a project on Wind Instruments of Rajasthan; grant given by SNA in 2006 March.
Awards And Distinctions
Surmani Award

Gold Medalist in M. Mus. (BHU) – Omkarnath Thakur Award – Surmani Award

Sadhna Prashasti Award

Sadhna Prashasti Award by All India Jain Women's Conference at Shravanbelagola in 2005.

Naadratna Samman 2009

Naadratna Samman 2009.
Association With Professional Bodies
India International Centre, New-Delhi.
Other Activities
A regular Artist of AIR and Doordarshan. Performed in various music festivals and conferences in India and Abroad.
Curetted and worked as consultant for many prestigious organizations for organizing Exhibitions of Musical Instruments in India and abroad.
On going projects :- (i) Curator and Instrument Collector for a Museum at Dhundlod, Rajasthan from October 2007 onwards. (ii) Working on a Project on Instrument makers of Miraj (South Western Maharashtra).