M.A. Music
Music & Fine Arts
Music

1. M.A. (Hindustani Music) Vocal/Instrumental

2. M.A. Hindustani Music - Percussion (Tabla/Pakhawaj)

3. M.A. Karnatak Music - Vocal/Instrumental (Veena/Violin)
1. Course Name: M.A. Hindustani Music – Vocal/Instrumental (Sitar / Sarod / Guitar / Violin / Santoor)
Eligibility in Entrance Category
Category Id
Course Requirements
Marks Requirements
1

B.A (Hons.) Hindustani Music Examination of the University of Delhi, or an examination recognized as equivalent to B.A. (Hons.) Hindustani Music Examination of University of Delhi.

Applicants who have completed their graduation with either Vocal music or Instrumental music in Hindustani Music, will have to apply in the same category in M.A. for the Entrance Tests and Admission.

All the applicants have to COMPULSORILY APPEAR in the Practical Entrance Test (Audition).

Minimum eligibility condition is 50% in aggregate or equivalent CGPA
2

B.A. (Pass/Prog.) Examination with Hindustani Music as one of the elective subjects from the University of Delhi, or an Examination recognised as equivalent to B.A. (Pass/Prog.) of the University of Delhi, with Hindustani Music as one of the elective subjects.

Applicants who have completed their graduation with either Vocal music or Instrumental music in Hindustani Music, will have to apply in the same category in M.A. for the Entrance Tests and Admission.

All the applicants have to COMPULSORILY APPEAR in the Practical Entrance Test (Audition)

Minimum eligibility condition is 50% in aggregate or equivalent CGPA, and 60% in Hindustani Music - Vocal/Instrumental (Combined score of all the three/four years as applicable)
3

An undergraduate degree in any subject recognized by the UGC, and from any university/institute/centre recognized by the UGC, and also having passed any one of the following Diploma courses –

Sangeet Shiromani Diploma Course (Hindustani Music) of the University of Delhi
Sangeet Visharad (6 yrs.)
Vid (6 yrs.)
Sangeet Prabhakar (6 yrs.)

Applicants who have done their Diploma in either Vocal music or Instrumental music in Hindustani Music, will have to apply in the same category in M.A. for the Entrance Tests and Admission.

All the applicants have to COMPULSORILY APPEAR in the Practical Entrance Test (Audition)

Minimum eligibility condition is 45% in aggregate or equivalent CGPA, and 60% in the Diploma course in Hindustani Music - Vocal/Instrumental (Combined score of all the years as applicable)
4

Applicants who have an Honours/ Masters course in any subject, and wish to pursue Masters in Hindustani Music - Vocal/Instrumental, must have studied at least two papers of Hindustani music in their undergraduate programme.

The applicants will have to apply in the same category in M.A. for the Entrance Tests and Admission, i.e. either Vocal music or Instrumental music of Hindustani Music, as the papers which they studied in their undergraduate programme.

The minimum eligibility condition for these applicants is same as Category no. (2)

Minimum eligibility condition is 50% in aggregate or equivalent CGPA, and 60% in Hindustani Music - Vocal/Instrumental (Combined score of all the three/four years as applicable)
Eligibility in Merit Category
For students of the University of Delhi only
Category Id
Course Requirements
Marks Requirements
5

B.A. (Hons.) Hindustani Music Examination of the University of Delhi.

Applicants who have completed their graduation with either Vocal music or Instrumental music in Hindustani Music, will have to apply in the same category in M.A. for the Entrance Tests and Admission.

All the applicants have to COMPULSORILY APPEAR in the Practical Entrance Test (Audition)

Minimum eligibility condition is 50% in aggregate or equivalent CGPA
6

B.A. (Pass/Prog.) Examination of the University of Delhi with Hindustani Music as one of the elective subjects.

Applicants who have completed their graduation with either Vocal music or Instrumental music in Hindustani Music, will have to apply in the same category in M.A. for the Entrance Tests and Admission.

All the applicants have to COMPULSORILY APPEAR in the Practical Entrance Test (Audition)

Minimum eligibility condition is 50% in aggregate or equivalent CGPA, and 60% in Hindustani Music - Vocal/Instrumental (Combined score of all the three/four years as applicable)
7

An undergraduate degree in any subject from the University of Delhi, and also having passed any one of the following Diploma Courses –

Sangeet Shiromani Diploma Course (Hindustani music) of the University of Delhi
Sangeet Visharad (6 yrs.)
Vid (6 yrs.)
Sangeet Prabhakar (6 yrs.)

Applicants who have done their Diploma in either Vocal music or Instrumental music in Hindustani Music, will have to apply in the same category in M.A. for the Entrance Tests and Admission.

All the applicants have to COMPULSORILY APPEAR in the Practical Entrance Test (Audition)

Minimum eligibility condition is 45% in aggregate or equivalent CGPA, and 60% in the Diploma course in Hindustani Music - Vocal/Instrumental (Combined score of all the years as applicable)
---
2. Course Name: M.A. Percussion Music (Tabla/Pakhawaj)
Eligibility in Entrance Category
Category Id
Course Requirements
Marks Requirements
1

B.A. (Hons.) Hindustani Music - Percussion (Tabla/ Pakhawaj) Examination or an examination recognised as equivalent thereto.

Applicants who have completed their graduation with either Tabla or Pakhawaj in Hindustani Music, will have to apply in the same category in M.A. for the Entrance Tests and Admission.

All the applicants have to COMPULSORILY APPEAR in the Practical Entrance Test (Audition)

Minimum eligibility condition is 50% in aggregate or equivalent CGPA
2

B.A. (Pass/Prog.) with Hindustani music - Percussion (Tabla/Pakhawaj) as one of the elective subjects from the University of Delhi, or an Examination recognised as equivalent thereto.

Applicants who have completed their graduation with either Tabla or Pakhawaj in Hindustani Music, will have to apply in the same category in M.A. for the Entrance Tests and Admission.

All the applicants have to COMPULSORILY APPEAR in the Practical Entrance Test (Audition)

Minimum eligibility condition is 50% in aggregate or equivalent CGPA, and 60% in Hindustani Music - Percussion (Combined score of all the three/four years as applicable)
3

An undergraduate degree in any subject recognized by the UGC, and from any university /institute/centre recognized by the UGC, and also having passed any one of the following Diploma Courses –

Sangeet Visharad (6 yrs.)
Vid (6 yrs.)
Sangeet Prabhakar (6 yrs.)

Applicants who have done their Diploma in either Tabla or Pakhawaj in Hindustani Music, will have to apply in the same category in M.A. for the Entrance Tests and Admission.

All the applicants have to COMPULSORILY APPEAR in the Practical Entrance Test (Audition

Minimum eligibility condition is 45% in aggregate or equivalent CGPA, and 60% in the Diploma course in Hindustani Music - Percussion (Combined score of all the years as applicable)
4

Applicants who have an Honours/ Masters course in any subject, and wish to pursue Masters in Hindustani Music - Percussion (Tabla/Pakhawaj), must have studied at least two papers of Hindustani Music - Percussion (Tabla/Pakhawaj) in their undergraduate programme.

The applicants will have to apply in the same category in M.A. for the Entrance Tests and Admission, i.e. either Tabla or Pakhawaj of Hindustani Music - Percussion, as the papers which they studied in their undergraduate programme.

The minimum eligibility condition for these applicants is same as point no. (2)

Minimum eligibility condition is 50% in aggregate or equivalent CGPA, and 60% in Hindustani Music - Percussion (Combined score of all the three/four years as applicable)
Eligibility Criteria (Merit Based)
For students of the University of Delhi only
Category Id
Course Requirements
Marks Requirements
5

B.A. (Hons.) Hindustani Music - Percussion (Tabla/ Pakhawaj) Examination or an examination recognised as equivalent thereto.

Applicants who have completed their graduation with either Tabla or Pakhawaj in Hindustani Music, will have to apply in the same category in M.A. for the Entrance Tests and Admission.

All the applicants have to COMPULSORILY APPEAR in the Practical Entrance Test (Audition)

Minimum eligibility condition is 50% in aggregate or equivalent CGPA
6

B.A. (Pass/Prog.) with Hindustani music - Percussion (Tabla/Pakhawaj) as one of the elective subjects from the University of Delhi, or an Examination recognised as equivalent thereto.

Applicants who have completed their graduation with either Tabla or Pakhawaj in Hindustani Music, will have to apply in the same category in M.A. for the Entrance Tests and Admission.

All the applicants have to COMPULSORILY APPEAR in the Practical Entrance Test (Audition)

Minimum eligibility condition is 50% in aggregate or equivalent CGPA, and 60% in Hindustani Music - Percussion (Combined score of all the three/four years as applicable)
7

An undergraduate degree in any subject recognized by the UGC, and from any university /institute/centre recognized by the UGC, and also having passed any one of the following Diploma Courses –

Sangeet Visharad (6 yrs.)
Vid (6 yrs.)
Sangeet Prabhakar (6 yrs.)

Applicants who have done their Diploma in either Tabla or Pakhawaj in Hindustani Music, will have to apply in the same category in M.A. for the Entrance Tests and Admission.

All the applicants have to COMPULSORILY APPEAR in the Practical Entrance Test (Audition)

Minimum eligibility condition is 45% in aggregate or equivalent CGPA, and 60% in the Diploma course in Hindustani Music - Percussion (Combined score of all the years as applicable)
---
3. Course Name: M.A. Karnatak Music - Vocal/Instrumental (Veena/Violin)
Eligibility Criteria (Entrance Based)
Category Id
Course Requirements
Marks Requirements
1

B.A. (Hons.) Karnatak Music Examination or an examination recognized as equivalent to B.A (Hons.) (Karnatak) Music Examination of University of Delhi.

Applicants who have completed their graduation with either Vocal music or Instrumental music in Karnatak Music, will have to apply in the same category in M.A. for the Entrance Tests and Admission.

All the applicants have to COMPULSORILY APPEAR in the Practical Entrance Test (Audition)

Minimum eligibility condition is 50% in aggregate or equivalent CGPA
2

B.A. (Pass/Prog.) Examination of the University of Delhi with Karnatak Music as one of the elective subjects, or an Examination recognized as equivalent to B.A. (Pass/Prog.) Examination of the University of Delhi, with Karnatak music as one of the elective subjects.

Applicants who have completed their graduation with either Vocal music or Instrumental music in Karnatak Music, will have to apply in the same category in M.A. for the Entrance Tests and Admission.

All the candidates have to COMPULSORILY APPEAR in the Practical Entrance Test (Audition)

Minimum eligibility condition is 45% in aggregate or equivalent CGPA, and 55% in Karnatak Music - Vocal/Instrumental (Combined score of all the three/four years as applicable)
3

An undergraduate degree in any subject recognized by the UGC, and from any university/institute/centre recognized by the UGC, and also having passed any one of the following Diploma Courses –

Sangeet Shiromani Diploma Course (Karnatak Music) of the University of Delhi
Diploma in Music of the Madras University / Andhra University / Banaras Hindu University
Sangeet Bhushanam (Isai Kalai Mani, 6 yrs.) Examination of Annamalai University/Swati Tirunal Academy, Trivandrum
Sangeet Vidwan (Isai Kalai Mani, 6 yrs.) title of the Central Kalashetra, Adyar, Madras
Diploma in Music, Potti Sriramulu Telugu University (6 yrs.)
Diploma in Music, Padmavati Mahila University, Tirupati (6 yrs.)

Applicants who have done their Diploma in either Vocal music or Instrumental music in Karnatak Music, will have to apply in the same category in M.A. for the Entrance Tests and Admission.

All the applicants have to COMPULSORILY APPEAR in the Practical Entrance Test (Audition).

Minimum eligibility condition is 40% in aggregate or equivalent CGPA, and 55% in the Diploma course in Karnatak Music - Vocal/Instrumental (Combined score of all the years as applicable)
4

Applicants who have an Honours/ Masters course in any subject, and wish to pursue Masters in Karnatak Music - Vocal/ Instrumental, must have studied at least two papers of Karnatak music in their undergraduate.

The applicants will have to apply in the same category in M.A. for the Entrance Tests and Admission, i.e. either Vocal music or Instrumental music in Karnatak Music, as the papers which they studied in their undergraduate programme.

The minimum eligibility condition for these applicants is same as point no. (2)

Minimum eligibility condition is 45% in aggregate or equivalent CGPA, and 55% in Karnatak Music - Vocal/Instrumental (Combined score of all the three/four years as applicable)
Eligibility Criteria (Merit Based)
For students of the University of Delhi only
Category Id
Course Requirements
Marks Requirements
5

B.A. (Hons.) Karnatak Music Examination of the University of Delhi.

Applicants who have completed their graduation with either Vocal music or Instrumental music in Karnatak Music, will have to apply in the same category in M.A. for the Entrance Tests and Admission.

All the applicants have to COMPULSORILY APPEAR in the Practical Entrance Test (Audition)

Minimum eligibility condition is 45% in aggregate or equivalent CGPA
6

B.A. (Pass/Prog.) Examination of the University of Delhi with Karnatak Music as one of the elective subjects.

Applicants who have completed their graduation with either Vocal music or Instrumental music in Karnatak Music, will have to apply in the same category in M.A. for the Entrance Tests and Admission.

All the applicants have to COMPULSORILY APPEAR in the Practical Entrance Test (Audition)

Minimum eligibility condition is 45% in aggregate or equivalent CGPA, and 55% in Karnatak Music - Vocal/Instrumental (Combined score of all the three/four years as applicable)
7

An undergraduate degree in any subject from the University of Delhi, and also having passed any one of the following Diploma courses –

Sangeet Shiromani Diploma Course (Karnatak Music) of the University of Delhi
Diploma in Music of the Madras University / Andhra University / Banaras Hindu University
Sangeet Bhushanam (Isai Kalai Mani, 6 yrs.) Examination of Annamalai University/Swati Tirunal Academy, Trivandrum
Sangeet Vidwan (Isai Kalai Mani, 6 yrs.) title of the Central Kalashetra, Adyar, Madras
Diploma in Music, Potti Sriramulu Telugu University (6 yrs.)
Diploma in Music, Padmavati Mahila University, Tirupati (6 yrs.)

Applicants who have done their Diploma in either Vocal music or Instrumental music in Karnatak Music, will have to apply in the same category in M.A. for the Entrance Tests and Admission.

All the applicants have to COMPULSORILY APPEAR in the Practical Entrance Test (Audition).

Minimum eligibility condition is 40% in aggregate or equivalent CGPA, and 55% in the Diploma course in Karnatak Music - Vocal/Instrumental (Combined score of all the years as applicable)
Selection procedure/Admission process:
The following will be the procedure for selection, and admission thereafter –
All the applicants have to COMPULSORILY APPEAR in the Practical Entrance Test (Audition) under both criteria, i.e. in both the Entrance and Merit based categories.
The entrance test shall have 60% Practical component based on the Audition of the candidate, and 40% based on Multiple Choice Questions (MCQ) Theoretical Test.
Note: The candidate under the Merit-based category, shall be judged based on the practical component of his Audition having weightage of 60%, & merit of UG from University of Delhi as 40%.
Admissions will be done strictly subject to the merit of the candidates and as per the availability of seats.
Admissions for reserved categories (SC, ST, OBC etc.) in any stream of Hindustani or Karnatak music, will be strictly done based on the relevant provisions and guidelines of the University of Delhi in force at the time of the Entrance Tests and Admissions.
Admissions for foreign nationals will be done as per the guidelines of the University of Delhi in force at the time of the Admissions. It is, however, essential, that the candidate must send his/her video performance in a CD/DVD along with the application form.
General Instructions regarding the Practical Entrance Test:
All candidates must bring their original documents (degrees, marksheets etc.) for verification, failing which, they will be denied entry inside the Department campus.
The Department of Music will provide instruments to the candidates for the audition. Candidates of Hindustani Vocal and Karnatak Vocal music must not bring their Tanpura along, as the same will be provided by the Department.
The candidates appearing in the instrumental/percussion category, may bring their own instruments, even though the Department will provide them. The candidates will be responsible for the safety of their own instruments. The Department cannot be held responsible for the loss/damage to the candidate's own instrument.
The Department will provide Tabla, Mridangam and Sarangi accompaniment for all the candidates of Hindustani Vocal/Instrumental music, Karnatak music and Hindustani Percussion music respectively. Under no circumstances will outside accompanists be allowed to enter the Department campus.
Only the candidates will be allowed to enter the Department campus. Parents, relatives and friends will be strictly denied entry inside. However, Differently-abled candidates (VH only) may be accompanied inside by only one person.
Each candidate will be given a maximum of 8-10 minutes to perform. For more details, the candidate must refer to the Syllabus for the Practical Entrance Test in the websites mentioned below.
Canvassing in any form will lead to automatic disqualification from the Practical Entrance Test.
University of Delhi – www.du.ac.in
Department of Music, University of Delhi – www.music.du.ac.in.
General Instructions regarding the Practical Entrance Test:
Note: In view of the prevailing situation due to COVID 2019, updates regarding the Entrance Tests and Admission shall be communicated on www.du.ac.in accordingly.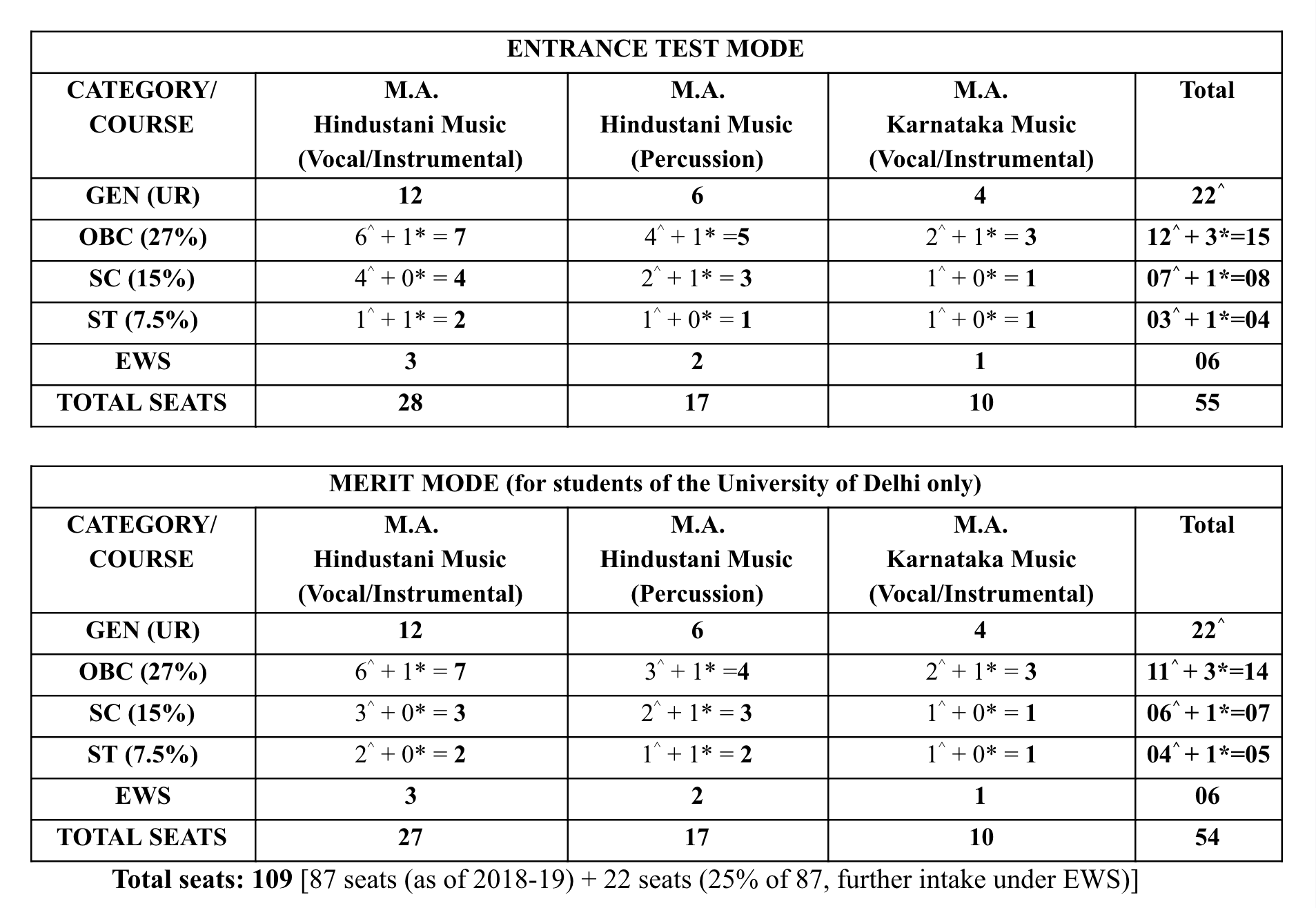 Note:
* Denotes seats as per 2018-19
* Denotes seats added under EWS
The seats across all the streams of Hindustani music, Karnatak music, Percussion Music are inter-changeable. The seats are however, not interchangeable across the various categories.
Seats for UR, OBC, SC, ST and EWS may change subject to the relevant guidelines of the University of Delhi in force at the time of the Entrance Tests and Admissions
Supernumerary seats for Differently-abled persons (Persons with Disabilities or PwD), Children/Widows of the eligible Armed Forces Personnel, and other such categories, will be as per the relevant guidelines of the University of Delhi in force at the time of the Entrance Tests and Admissions
M.A. in Hindustani Music
M.A. in Karnatak Music
M.A. in Percussion Music
Syllabus of M.A. Hindustani Music (Vocal/Instrumental) Entrance (Practical & Theory) Examination
Syllabus of M.A. Karnatak Music (Vocal/Instrumental) Entrance (Practical & Theory) Examination
Syllabus of M.A. Percussion Music (Tabla/Pakhawaj) Entrance (Practical & Theory) Examination