Deepti Omchery Bhalla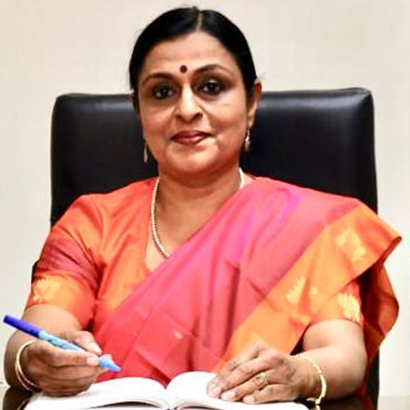 Professor
---
27667608, 9810068562
lasyangam@rediffmail.com
---
Educational Qualifications
Ph.D. - Karnatak Music.
M.Phil – University Topper, Karnatak Music, University of Delhi.
M.A - With rank and Distinction, Karnatak Music, University of Delhi.
B.A - Gold Medalist,Karnatak Music, University of Delhi.
Career Profile
Professor – 1996 onwards till date.

Associate Prof. – 1995

Asst. Prof. - 1985

Asst. Secretary, Sahitya Kala Parishad
Areas Of Specialization / Interest
Sopana Music of Kerala
Subjects Taught
Karnatak Music (Vocal)
Publications Profile
ENGLISH
Vanishing Temple Arts of Kerala - Shubhi Publications, Delhi.
Indian Music and Allied Arts in 5 Vols (Ed), SandeepPrakashan
Gleanings in Indian Music, (Co-Editor) Sandeep Prakashan.
Mohini Aattam Kottaara Sampradayam (to be released shortly)
MALAYALAM ( Co-edited with Dr.Leela Omchery)
Abhinaya Sangeetam - Nalanda, Publication, Kerala
Keralathile Laasya Rachanakal - D.C. Books, Kerala
Irayimman Thampiyude Sangeet Rachanakal - D.C. Books, Kerala
Chinkaara – Koothu Paattukalum Koodappirappukalum, Mudra Books, Delhi
Vettom Mangiya Kovil Paattukal - under publication
Besides these several articles have been published in Journals and Magazines
Conference Participation/Presentations
Invited to participate in round table conference and discussion with Prof.Gabriele Brandsetter –(Berlin ) under the agies of Max Mueller Bhawan on 8th March.
Presented lecdem in the National Seminar' Aesthetical Approach in the Musical Forms'org by Faculty of Music,University of Delhi.
Invited by the Indian Council For Cultural Relations( External Affairs Ministry) for LECDEM in Karnatik Music for the IFS Trainees.
LecDem/concert at the Kartik Fine Arts , Chennai on 4 th Jan 2012
Awards And Distinctions
NIRTYA KALA SHIKHAMANI

Delhi Karnataka Sangeeta Sabha and Tirupati Tirumaldevasthanam, 2017

SANGEETA NRITTA VISHARADA TITLE

IrayimmanTampi foundation( constituted by the Royal family), Cochin, Kerala

LALITA KALA VICHAKSHANA (Madurai)

SANGEETA SARVA BHAUMA( Delhi Tamil Sangam and GayatriFinearts)

NATYA RATNA AWARD

MaararSabha, Kerala (leading institution of Temple percussionist of Kerala)

KALADARPANAM AWARD

for contribution to the field of Mohiniattam, Trisur, Kerala

SANGEETA KOVIDA

Delhi Tamil Sangam and Gayatri Fine Arts, Delhi respectively

LALITA KALA VICHAKSHANA

title conferred for accomplishment in both Indian Music and Dance - Sangeeta Samajam, Madurai

MINI SCREEN AWARD

by Trivandrum Doordarshan , for best Music Telecast for the year 1991-92

AWARD OF EXCELLENCE

in music by Sh. I. K. Gujral (former Prime Minister of India)

SPIC MACAY SAMMAN

awarded by Sh. Krishna Kant ,former Vice President of India

KERALA SANGEET NATAK ACADEMY AWARD

Awarded by Chief Minister of Kerala

CENTRAL SANGEET NATAK AKADEMI AWARD

National Award, conferred by the President of India
Association With Professional Bodies
INDIVIDUAL CONTRIBUTION IN ACADEMIC ENHANCEMENT, university Delhi and other cultural / academic bodies
Course designer and co-ordinator for Add on Course – joint venture of Shri Venkateshwara college and Dept. of Music, University of Delhi, July, 2017
Course writer – VIDYA SAR for dept of Indology, Bharatiya Vidya Bhawan, programme initiated by Prime Minister of India, 2017
Convenor academics – CBSE, Delhi, 2012 - 2017
Member Academic Board – Leelavati Munshi College of Education, Bharatiya Vidya Bhawan, Delhi - 2017
Online Course expert – NCERT for both music and dance. Expert for preparing Handbook for teachers in Indian Classical Music. Jan 30th
Online course lecture for University of Hyderabad, AP, 2017
PEER REVIEW of 'Rumination of Music in Buddhism' for Horizon Publishing House, USA
EDITOR, Swarabharati journal on Sanskrit treatises, BRIHADDESI, SANGIT RATNAKAR & SANGIT DARPAN 2014, 2015, 2016, 2017, ISSN Journal, Bharatiya Vidya Bhawan, Delhi
EDITOR – BRIHADDESI book, published by Bharatiya Vidya Bhawan Delhi, released on 7th Nov, 2017, Delhi
Other Activities
SPECIAL DOCUMENTARY INTERVIEW OF SELF in 'ARTISTE AT WORK' BY THE BBC CHANNEL, 2015
Conducted yoga sessions –World Yoga Day, 21st June, 2017, music faculty, University of Delhi
Articles
'Salient features of Mohiniyatam' published for KELI,National journal published by Kerala Sangeet Natak Akademi.
Article on Mohiniyattam for SWAR BHARATI, Annual Magazine on Indian Arts & Culture, Bharatiya Vidya Bhawan, New Delhi.