AKRAM HUSSAIN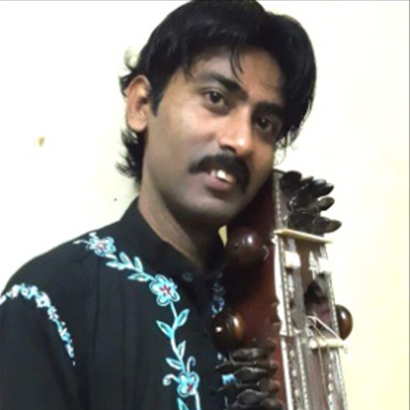 Staff Artist(Sarangi)
---
9871677801
sarangiakram@gmail.com
---
Profile
Akram is a young energetic sarangi player and belongs to the Moradabad Gharana. He received his initial training from his father, late Ustad DILDAR HUSSAIN SAHEB, besides his maternal Grandfather, late Ustad GHULAM SABIR QADRI SAHEB, under his guidance. Both are well known Sarangi player.
As childhood he gives so many solo performances in delhi and other parts of india. He have the opportunity that he performed in AKASHWANI SANGEET SAMMELAN in Bangalore at 2004. He has performed solo & accompaniment in so many festivals like Akashwani Basant Utsava Kolkata-2006, Sopan festival Delhi-2002, Swami Haridas Sangeet Sammelan Mumbai, Bihu Festival Assam, Khairagarh Mahotsava etc.
He has given accompaniment in many seminars, conferences, festivals etc with eminent artists like Jagjit Singh ji, Ila Arun ji, Chandan Das ji etc of Vocal, Ustad Sabir Khan ji, Girish chand Shrivastava ji, Pandit Subhash Nirman ji etc of Tabla, Pt. Rajendra Gangani ji, Rani khanam ji, Jitendra Maharaj ji, Nandini Singh ji etc of Kathak.
He has Performed in abroad also like Jeonju Sori Festival in South Korea-2007, Phillipiness-2012, London, Dubai, Singapore,Brazil-2017 etc. He gave his Judgment For the competition of Utter Pradesh Sangeet Natak Acadamy Lucknow-2011 & Bhatnagar International School Delhi.
At present he is the staff artist of the Faculty of Music and Fine Arts, University of Delhi.