Ashis Sengupta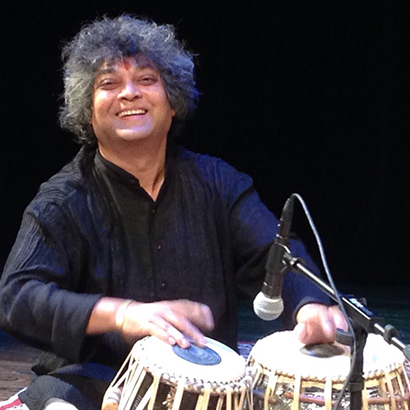 Staff Artist(Tabla)
---
9810057507
ashis_sangeet@yahoo.com
---
Profile
Pandit Ashis Sengupta is a dynamic, versatile Tabla player and belongs to the Banaras gharana. He received his initial training from his father Shri Ranjit Kumar Sengupta and was later groomed by Pandit Nanku Maharaj, Pandit Mahapurush Mishra and by Pandit Krishna Kumar Ganguly. His highly aesthetic perception of the Tabla has enabled him to reach the most profound depth of this extra-ordinary instrument and express a range of emotions. Pandit Ashis Sengupta has innovated to the various rhythmic compositions learnt from his Guru-s. He is also blessed with a lot of traditional compositions, Stotra-s and varieties of Gat-s from the great Guru-s.
A most sought after artiste and a recipient of 'Taalmani' award and a recipient of prestigious Senior fellowship from Ministry of Culture, Govt. of India. Pandit Ashis Sengupta is well versed in the art of playing variations of compositions. His accompaniments are marked by rare sense of aesthetics, grace and unexcelled sweetness. Both as a soloist and an accompanist to widely varied music styles and performers, he is equally adept in the accompaniment of classical and semi-classical vocal music, instrumental music as well as kathak dancing. Apart from being a Tabla player, he is a unique composer of music of repute.
Most recently he has written book on the Tabla named "Facets of Tabla Playing" in 2012, which has been published by Kanishka Publishers, New Delhi. He has also written many articles, which have been released, to his credit in numerous journals. Pandit Ashis has been awarded SENIOR FELLOWSHIP by Ministry of Culture, Govt. of India as an outstanding artiste in 2017.
He has travelled extensively all over India and abroad for his performances and lecture-demonstration on Tabla playing under the aegis of numerous organizations. Apart from this extensive global tour Pandit Ashis has participated India festival in Moscow, Germany, USA and France. He has had the good fortune of accompanying well known maestros like Pandit Nivrutti bua Sarnaik, Pandit Mallikarjun Mansoor, Vidushi Girija Devi, Pandit V.G. Jog, Pt. Manilal Nag, Vidushi Sunanda Pattanayak, Pt. Jagdish Mohan, Vidushi Damayanti Joshi (Kathak Dancer), Pt. Rajan & Sajan Misra, Pandit Debu Chaudhuri, Pandit L.K. Pandit, Pandit Ronu Majumder, Pandit Vinayak Torvi, Pandit Venkatesh Kumar, Pandit Vishwa mohan Bhatt, Ustad Rashid Khan, Pandit Kaivalya Kumar, Vidushi Kalapini Komkali and Pandit Jayateerth Mevundi to name a few.
At present he is a member of the Faculty of Music and Fine Arts, University of Delhi.