Dal Chand Sharma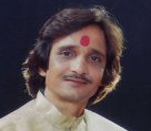 Staff Artist(Pakhawaj/Tabla)
---
9810200505
sharmadalchand_pakhawaj@yahoo.in, dalchand.pakhawaj@gmail.com
---
Profile
Dalchand Sharma is an eminent Pakhawaj exponent of "NathdwaraGharana". He hails from Bharatpur district in Rajasthan.He learnt the intricate art of Pakhawaj playing from the eminent Pakhawaj exponent Acharya Pandit Totaram Sharma in the true tradition of Guru Shishya Parampara.He also had a opportunity of learning from his Dada Gurus, Late Pandit Murlidhar Sharma and Padmashri late Pandit Purshottam Dasji.
Pandit Sharma with his rigorous Riyaz and dedication had developed and extraordinary fitness, delicacy and expressiveness of executing even intricate and tough rhythmic patterns on "Pakhawaj". The (Musicologist) gently influenced Pandit Dalchand Sharma developing a sense of brilliant tone & bole clearity "Layakari" and balancing of padhant and bajant. Pandit Dalchand Sharma is a top grade Artist of All India Radio and Doordarshsan and has performed extensively both on the Radio and Television, as a soloist and accompanist. He has performed in India and abroad like France, Italy, UK, Belgium, Morocco, Switzerland, Syria and in the Festival of India in Germany & Japan. He has participated in a TV – documentary "The Great Maestros Of India" and in a TV- serial "The Pride OF India" Pandit Dalchand Sharma has provided the Pakhawaj accompaniment to almost all of the leading Dhrupad singers and veenkar in India.
Pandit Dalchand Sharma has received many awards: Tansen national award,M.P., Sahitya Kala Parishad Yuva Samman of the Delhi Government,Sangeet Martand Award, Taal Shiromani Award, Pakhawaj Shiromani Award, Mridangmani Award (ect).
At present he is working as a Staff of the Faculty of Music & Fine Arts, University of Delhi.