N Padmanaban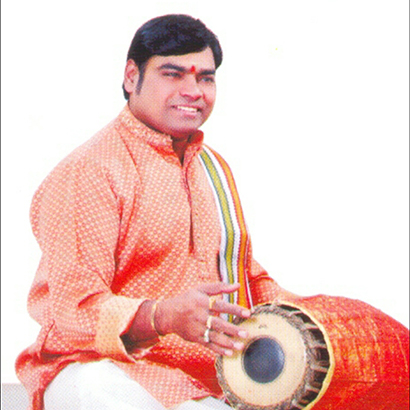 Staff Artist(Mridangam)
---
9810791209
thalabhakthipadmanaban@hotmail.com
---
Profile
Kumbakonam N. Padmanaban, who has a family tradition of music, was encouraged to learn the Mridangam by his father the Late Shri T.V. Nagarajan and mother Late Shrimati Saraswathi started learning underMridangaVidwan Late Shri Singaram Pillai since he was 7 years old. After undergoing rigorous training at the Tamil Nadu Government Music College, he obtained the title VadhyaVisharat under the patronage of Kalaimamani Shri T.R. Srinivasan. To further his proficiency in the art of Mridangam, he came under the tutelage ofMridangam Maestro KalaimamaniThiruvarur Shri Bhakthavatsalam, under the Gurukula system.
He has notched up numerous achievements. He participated in the 35 hours of continuous Mridangam playing programme at Tamil Nadu Government Music College in the year 1985. Among the awards and titles he on, mention can be made of MathalaKalaiArasu given by theThiruvaiaru Tamil Isai Sangam, Best Mridangist Award given by the Indian Fine Arts Society, Chennai, MridangamVidwan Coimbatore Ramaswamy Pillai Award given by the Music Academy of Chennai in the year 1987 and 1989, MridangaVadyaKesari by the Venkatadri Veda VidyaPeetam Trust, Delhi, ThanjavurVaidyanathaIyer Award given by Sri Raagam Fine Arts, Chennai, NathaLayaNipuna given by Gayathri Fine Arts, Delhi,MridangaSelvam given by MuthamizhPeravai, Chennai, Delhi YuvaKalakar given by Shanmugananda Sangeetha Sabha, Delhi, Abhinava Nandi given by AsthikaSamaj, Delhi, RasikaPuraskaram given by RasikaPriya, Delhi, Layapravina given by KRJ Music School, Delhi, Appointed as AsthanaVidwan of Shri KanchiKamakotiPeetam from 2008, RagalayaSiromanigiven by Ragalaya Trust, Chennai, Kalaignar Award 2010 given by Isai NatiyaSangam, Chennai, Mridanga Kala Bharathi given by Layamadhuraa Percussive Arts Center, Toranto, Canada and LayaKalanidhi given by Hayagriva&Lok Kala Manch Delhi 2012.MridangaSudaroli given by Apoorvaragam , Music & Dance Magazine , Chennai 2014,Life Time Achievement Award given by Gayathri Fine Arts 2014, MridangaInbam given byGana Lola Vimarsha Chennai 2014, Vaadhya Kala Aacharya from Shree Dharma SasthaSewaSamajam 2016.
Some of the names of the renowned artistes whom he had accompanied on the Mridangam would be: Padma BhushanProf. T.N. Krishnan, Padma Bhushan, Late Dr. M. Balamuralikrishna, Late Dr. M.L. VasanthaKumari, Sikkal Sisters, Shri T.R.Subramaniam, Late Shri MaharajapuramSanthanam, Shri NeduNeriKrishnamoorthy, Shri T.V. Sankara Narayanan, Late Tanjore Shri. Kalyanaraman, Shri Thiruchoor Ramachandran, Padma BhushanDr. T.V. Gopalakrishnan Late Dr. Madurai Somu, , Shri O.S. Thiagarajan, Late Dr. N. Ramani,Late Shri M.S. Gopala Krishnan, Prof. V.V. Subramaniam, Late Smt. T.R. Navaneetham, Shri NeyveliSanthanaGopalan, Smt. Aruna Sairam, Shri Ravi Kiran, Smt. SudhaRaghunathan, Smt. NityashreeMahadevan, Dr.S. Soumya, Smt. Bombay Jayashree, Shri Sanjay Subramaniam, Dr.LeelaOmcherry, and all the facultymembers etc. In some of the notable JugalBandiprogrammes he took part in, prominent personalities like UstadAmjad Ali Khan on the Sarod, Late Pandit Ram Narayan on the Sarangi, Pandit Hari Prasad Chaurasia on the Flute,Prof. N. Rajamon Violin, Sittar Maestro PanditDevabrata (Debu) Chaudhuri, Tabla Maestro UstadZakhir Hussain, Tabla Maestro UstadShafaatAhmed Khan,Tabla Maestro UstadAkaram Khan , Late Shri. KishoriAmonkar and ShriAjay Chakraborty have participated.
He has also been conducting and performing many TalaVadyaKatcheries under the banner of ThalaBhakthi, which has been founded by him. He is also a part of the Mridangam concert of 108 artists, layamadhuraMridangamYagna, Led by his guru ThiruvarurBakthavatsalam at the nada mantapa auditorium in Mysore on May 27,2010. The percussion team performed for 1 hr 30 min. It was in Limca Book Of Records (national Record 2011). He is also the Vice President of Gayathri Fine Arts.
He is "A" Graded artiste of the All India Radio and has been giving performances regularly in AIR and Doordarshan (National Programme) & (Sangeeth Sammelan) from time to time. He has toured all over India and visited countries like United Kingdom, Germany, Mexico, Srilanka (ICCR Tour), Italy (ICCR Tour), France, Hungary, Spain, Lotvia, South Africa (ICCR Tour), Bangkok, Iran ( government of culture) to participate in various cultural programmes organized by different cultural organizations. Performed at various prestigious festivals across the country to a name a few ( Hari Vallabh Festival, Sahitya kala Parishad festival, Sangeeth natak academy festival, Spic Macay. Qutab Festival etc. He is currently working as a Faculty member at Faculty of Music and Fine Arts, University of Delhi.