RAM NARAYAN JHA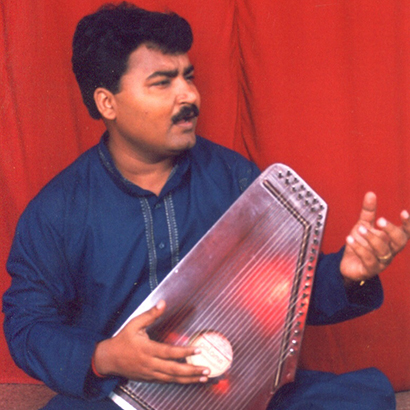 Staff Artist(Tanpura)
---
9910845694
ramnarayanjha3@gmail.com
---
Profile
Born in Mithila (Bihar) being the land of famous seats of classical music .Ram Narayan Jha is a young vocalist of Hindustani classical vocal (khayal). After initile training he received the artistic treatment of Ragas from Pt. Jagadish Mohan of Kirana Gharana and is currently infused with mellifluent tunes and temper of blooming vocalist Pt. Sharathi Chatterjee of kirana & benaras gharana.
His traditional treatment of ragas performance are characterized by the the systmetic development of vistar the highly structured TAN & SARGAM. Apart from khayal gayaki Ram Narayan is an accomplished performer of more romantic style of singing such as THUMRI, DADRA, CHAITI, TARANA, BHAJAN & VIDYAPATIGEET.
Apart from obtaining B.A. (Hons) in History from L.N.M.U. Darbhanga (Bihar), he secured Sangeet Prabhakar, Sangeet Alankar, Sangeet Visharad and Post graduate from Khairagarh University. He has also qualified UGC-NET.
He was felicitated with the first prize in the Youth Festival organized by Nehru Yuva Kendra Madhubni Bihar. He has also been bestowed with various honours such as Swar-Samarpan Samman, a scholarship by Rotary Club New Delhi.
Ram narayan is a graded artist from ALL INDIA RADIO, where he performs regularly. He has given numerous performances in India and abroad.
He was deputed as a Hindustani vocal music Teacher-cum-Performer by ICCR, New Delhi in the Mahatma Gandhi Institute for Cultural Co-operation (HIGH COMMISSION OF INDIA, Port of Spain, West-indies) from July 2010 to July 2013.
Presently he is working as staff artist in Music Department, Faculty of Music and Fine Arts, University of Delhi.