Sukanta Bajpayee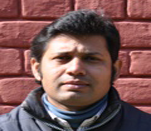 Staff Artist(Tabla)
---
9899685698
skbajpayeetabla@gmail.com
---
Profile
Sukanta Bajpayee started his career under the able guidance of Pt Bikash Mandal of Farukhabad Gharana. After learning from Shri Mandal for a considerable amount of time his skills were honed by none other than the doyen of Tabla Pt Shyamal Bose from the same Gharana.
He has already established himself as a soloist and as an able accompanist,accompanying top musicians of the country both in Vocal and Instrumental music.His baj reflects a blend of three major gharanas of Tabla namely Punjab,Benaras and Farukhabad.
Sukanta has completed his B.A(Hons) Percussion Tabla from Ravindra Bharti University(Kolkata) in the year 1996,M.A Percussion Music(Tabla) in 1998 from Ravindra Bharti University(Kolkata) and his Pre-PhD from Rohtak University in 2014.
He has a great experience in the field of teaching consequently working at places like ,Matri Kala Mandir(November 2001),Bathand Vidyalaya(June 2002),Delhi Public School(Nov'06-Mar'09),The Mother's International School(Nov'01-Oct'06) and presently he is serving as a member of Faculty at the Faculty of Music and Fine Arts,University of Delhi as a Tabla Accompanist from the year 2009.
Sukanta has over the years performed at various Music Festivals and venues.Some of the notable performances have taken places at Prestigious Venues like Ravindra Sadan,Mahajati Sadan,Uttam Manch,Sukant Sadan in Kolkata.
FICCI, IIC, IHC, Sri Aurobindo Society and Kamani Auditorium in Delhi.
He has also performed for SPIC MACAY and various other places in India and has won accolades and laurels for his solo performances and soothing accompaniment. He has the fortune of regularly performing at TV and All India Radio.
He has also recorded under various labels and with artists of the likes of Pt Barun Kumar Pal(Hans Veena),Shri Sanjib Sirkar(Sitar) and many others.