Uday Shanker Mishra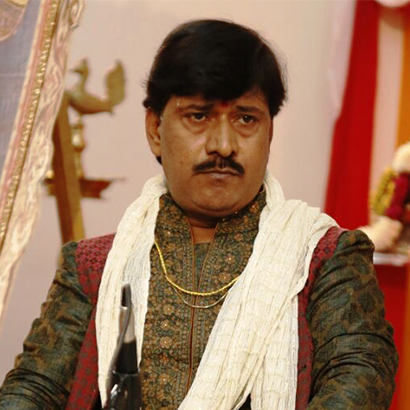 Staff Artist(Tabla)
---
09818305871
ujjwalmishra208@gmail.com
---
Profile
Uday Shankar Mishra is a distinguished Tabla (Indian drums musical instruments) player and a teacher since 1983. He comes from accomplished and musically acclaimed family of Pandit Gama Maharaj who was well known for his mastery of rhythm and excellence. Uday aquired his musical talents and began a training in playing tabla when he was about six years old under the teachings of his father Pt. Gama Maharaj and then later under his uncle Pt. Sheetal Prasad Mishra. Upon reaching of age, he graduated from the Music College of Bhathkhande Sangeet Mahavidhyalay, Lucknow, India and Diephu Music College in North India.
Uday initially taught in the Lucknow areas. The academies he taught at include Nari Shiksha Niketan Inter College, Mala Sangeetalaya in Lucknow and Kala Kendra in Assam, India. Then he moved to the Delhi area for teaching and accompanying with well reknown vocalists and Kathak dancers named below.The various institutions that Uday has taught in Delhi areas include: Sri Ram Bhartiya Kala Kendra; Matri Kala Mandir(Aurobindo Ashram), New Delhi; Pushpanjali Sangeet Vidyalaya(Ghaziabaad, UP); Sangeet Bharti(Delhi); Mother's International School(Delhi). He taught for 25 years in Vidhyavati Mukand Lal Mahaila Mahavidhyalaya - Ghaziabaad.
Besides teaching Tabla Uday has gained enormous experience which led him to accompany Hindustani(Indian) vocal music, wind instruments and Kathak dance. One of the highlights of Uday was to have been invited by a radio station Akashvani Delhi to play music for the thirteen episodes show based on "Tabla ka Janm aur uski Vikas Yatra".
He has performed in several music festival like Lucknow Mohotsav, Sankat Mochan festival, Ganga Mohotsav name a few as an accompanist and as a solo artist in India. He accompanied some well known Kathak artist and dancers like Pandit Ram Mohan Maharaj, Rani Khanaam, Geetanjalilal, Bakshi Vikas, Neera Batra, Shikha Khare, Mun Mun Ahmad and many others.
His talent has led him to his current position as a member of Faculty of Music and Fine Arts at the Delhi University, in Delhi, India. This position in itself is an honour and privilege to serve the most inspiring and dedicated Indian Musical artists in an "Ivy League" institution. He is also teaching in Suranjana Sangeet Sansthan(Delhi); Bharatiya Vidhya Bhawan(New Delhi) in the evenings.
At present he is working as Tabla accompanist in Department of Music, Delhi University.